INTENSE CYCLES
Bad Ass Bikes have been behind Intense Cycles for years. We think that if you're after the ultimate in high-end bikes then they're pretty hard to beat.
As the UK's premier Intense Cycles dealers we can help you out with absolutely anything - from repairs and spares to custom builds and 'off the shelf' bikes ready to ride.
Possibly the brand with more racing pedigree than any other bike brand. Still hand-made in the States, these bikes are the bike of choice for shop owner Rob Cooksley. We are the UK's #1 Intense retailer, so are able offer the best advice and support on Intense Bikes bar-none!
Intense Cycles Stocked at Bad Ass Bikes:
951
Despite being billed as Intense's entry level downhill bike, the 951 is a race-proven DH weapon capable of mixing it with bikes twice its price. Ready to go 'out of the box' this bike is keen as mustard to plummet. 
951 Evo
With 8.5 inches of travel to play with and slack, aggressive angles the 951 EVO is Intense's sea-level-seeking missile. If you can't ride down it on this then it's time to hang up your boots and go home.
M9 Fro
The M9 Fro exemplifies Intense's approach to bike building and carries with it a DH heritage which is the envy of the World Championships. An adjustable, race-proven geometry combines with adjustable travel (8.5 inches to 9.5 inches), bottom bracket (BB) height and wheelbase. Ridden by DH race winners the world over.
Uzzi
The Intense Uzzi is a winch and plummet specialist, designed with day-long mountain adventures in mind. With 6.5 to 7 inches of adjustable travel, a strong, stiff frame and the ability to go up what it must come down, the Uzzi is a go-anywhere all mountain/freeride mtb capable over pretty much anything you can throw it at.
Tracer 29
A confidence inspiring 29 inch-wheeled mountain dominator. The Tracer 29 takes everything great about the classic Tracer and sticks it on big, trail munching wheels. As the first long-travel 29er the Tracer 29 has set the bench mark for big wheeled all mountain machines and features adjustable rear travel and dropouts and comes in a ton of flavours.

Tracer 2
The core of Intense's trail bike range, the Tracer 2 encapsulates everything that Intense stand for; practicality, aesthetically spot on and dynamic on the trails. Aptly capable up and down hill the Tracer has an adjustable suspension set up, which features Intense's patented virtual pivot point (VPP) swing arm design for plush riding and awesome trail feedback.

Tracer 275
Like the name suggests, the Tracer 275 is a 27.5 inch (or 650B) wheeled trail bike that offers the best of both 26 and 29 inch wheels by combining the turn in and precision of a 26" bike with the fast rolling properties of 29" wheels.  The 275 takes trail bikes to the next stage, and will happily take you up as well as down. One bike to rule them all? Probably, yeah.

Carbine
Full of 'pop' the lively carbon fibre Carbine takes the best of German-engineered carbon and combines it with Intense's frame building expertise.  The result is an incredibly light, stiff trail/enduro bike which begs to be pushed hard. Worth considering if your XC racing takes you into more technical territory.
Carbine 275
The Carbine 275 takes everything great about the Carbine and fires it onto 650B wheels for extra 'go'. Adjustable travel from 5.5" to 6", patented VPP suspension and all the standard features you'd expect from a long-travel trail bike.
Carbine 29
Looking like it should go on the wall in a frame the Carbine 29er is a buxom carbon fibre All Mountain beast without the weight. Designed to help you master Enduro races with style the Carbine 29 offers adjustable suspension (5" to 5.5"), ISCG 05 mounts and comes in at 5.8lbs (2.6kg) for a medium frame. Tidy.

Carbine SL
Another Carbine flavour for those looking for the lightest, most capable XC/light trail frame-set around; the Carbine SL takes weight-saving and stiffness to the nth degree by adding in a carbon fibre shock link and titanium bolts. Serious racers take note.
Spider 29
With 100mm - 120mm of adjustable travel the Spider 29er is Intense's short-travel 29 inch-wheeled race bike, offering nimble handling, speed and full-sus comfort. If your XC racing gets a bit steep you can even run a dropper post with the cable guides.
Spider 29 Comp
Super light, super stiff, super fast.  The Spider 29 Comp is a 4.5" - 5" adjustable full-suspension race demon designed to dominate XC/light trail riding and racing. Featuring Intense's VPP suspension platform, internal cable routing and ISCG 05 mounts, the Spider 29 Comp is a capable, quick little number.

Hard Eddie 29
If you're looking to keep things a bit more old school then the Intense Hard Eddie 29er carbon fibre hardtail could be the bike for you.  Ensuring every ounce of power is put out through the back wheel the SEED Engineering carbon keeps the frame weight down to a mind blowing 2.7 lbs (1.2 kg) (depending on colour and dropout options). At home on the XC racing circuit this big-wheeled beast will munch through the miles in style.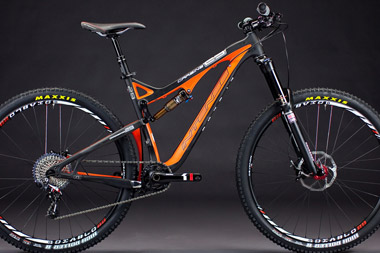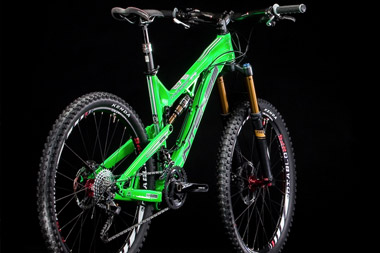 Just to say a MASSIVE thank you Rob for repairing my front wheel spoke yesterday and enabling me to complete the Great Weston in a record time for me!
Honestly, you really did help me, because that was the end of my ride without your expert advice and service. Your workshop is an absolute credit to you and I heard others comment yesterday just how professional it was. As you say, most bike shops are a shop with a workshop added on. Your base is definitely both of these and well done for that! Thanks again Rob really appreciated.

Nigel Tomlinson (TAUNTON)

Expert, efficient, non-bullsh*t service from cheerful and charming blokes - and a cozy wood burning stove to boot.... you can't go wrong...

Karin Burnett [satisfied lady curtomer]

I like the fact I get a top quality service when I take my bike in, and that you can just stop by when passing just for a coffee and a catch up with a great bunch of guys who know there sh*t, well worth the 40mile round trip from my gaff.

David Lydiate