Chris King Hubs, Headsets and Bottom Brackets
Notoriously high quality components from the U S of A. Beautiful pieces of functional art for your bike in the shape of headsets, bottom-brackets and hubs.
For true fit-and-forget bearing components we always recommend Chris King. Built to exacting standards within tiny tolerances Chris King hubs, bottom brackets and headsets will give you years of refined performance, which might just be the difference between 1st and 2nd place.
Established in 1976, Chris King knows how to make a bearing, and with minimal regular servicing you'll find these components just keep on giving.
For the latest info and prices on a lovely bit of King, give us a call: 01761 462011
Take a look at the Chris King Precision Components website for technical details.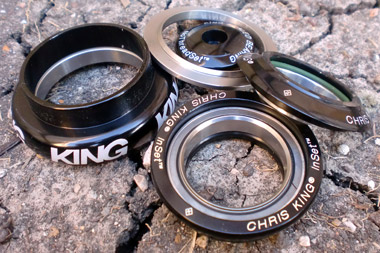 Just to say a MASSIVE thank you Rob for repairing my front wheel spoke yesterday and enabling me to complete the Great Weston in a record time for me!
Honestly, you really did help me, because that was the end of my ride without your expert advice and service. Your workshop is an absolute credit to you and I heard others comment yesterday just how professional it was. As you say, most bike shops are a shop with a workshop added on. Your base is definitely both of these and well done for that! Thanks again Rob really appreciated.

Nigel Tomlinson (TAUNTON)

Expert, efficient, non-bullsh*t service from cheerful and charming blokes - and a cozy wood burning stove to boot.... you can't go wrong...

Karin Burnett [satisfied lady curtomer]

I like the fact I get a top quality service when I take my bike in, and that you can just stop by when passing just for a coffee and a catch up with a great bunch of guys who know there sh*t, well worth the 40mile round trip from my gaff.

David Lydiate