BIKE SERVICING
We offer a one stop cycle servicing experience, so from wheel builds, disc brakes and shock servicing to general bike servicing we pride ourselves on having the lowest service out-sourcing of any bike shop in the country, which is a fact.
We only sell product that we are confident in riding and repairing ourselves. From the early ninety's Bad Ass Bikes founder Rob "Box" Cooksley has worked for some of the best riders and companies such as GT, Schwinn and RockShox as a technician and racer. In 1999 Rob left the corporates, taking this wealth of experience with him, and founded B.A.B. The rest is history.
As the 2011 National Elite Downhill Enduro Champion and third in 2012, he has the race credentials to back it up, "my ethos is simple, the shop is only as good as it's workshop and it's staff's knowledge".
Service Info:

Service lead-times can vary throughout the year, so please call 01761 462011 or e-mail info@badassbikes.co.uk to book.
Suspension Servicing:

Please visit the Suspension Servicing page for details.
WE OFFER A FAST, FRIENDLY NO NONSENSE SERVICE - WE DON'T TELL YOU ANY LIES.
Service Pricing
General Service
Starting at £35, which includes any adjustment the bike needs i.e. wheel truing and re-tensioning, hub cone and headset tightening, brake and gear/transmission adjustments.
Premium Service
For £50 we do all of the above, plus solvent bath the chain and sprockets and give the bike a complete valet using bike-specific cleaners and lubricants.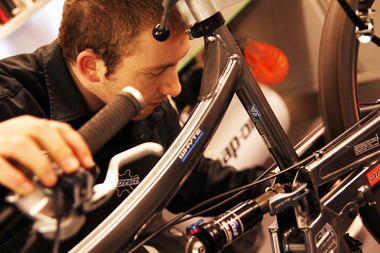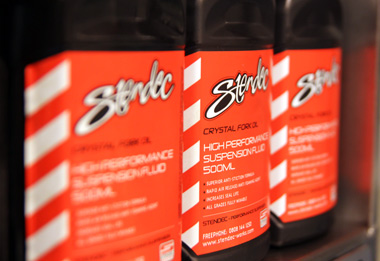 Just to say a MASSIVE thank you Rob for repairing my front wheel spoke yesterday and enabling me to complete the Great Weston in a record time for me!
Honestly, you really did help me, because that was the end of my ride without your expert advice and service. Your workshop is an absolute credit to you and I heard others comment yesterday just how professional it was. As you say, most bike shops are a shop with a workshop added on. Your base is definitely both of these and well done for that! Thanks again Rob really appreciated.

Nigel Tomlinson (TAUNTON)